So here we go again. Tokyo is under a new state of emergency. The Golden week holiday is here, and there seem to be a focus on making people not travel or unnecessarily spending time in crowded places in order to stop the increase in Corona virus infections. Hence, for the first time since last spring, this state of emergency, in addition to work from home requests, reduced business hours and early closing of bars, also includes many shops and shopping centers being closed.
On our daily walks, I see a different city, a little bit like a ghost town with some shops barred up and signs of temporary closure everywhere. However, shops carrying daily necessities are still open and studying them has given me plenty of opportunities to think about what is important in life. Our neighbor, the Takashimaya shopping center, has food stores in the basement. That area is open which makes sense since people need to eat, and even though many of the stores are delicacy stores and stores carrying pre-cooked food and normally is the most crowded place in the department store, it kind of makes sense anyway since many people don't really cook and late night eateries are all closed or closing early.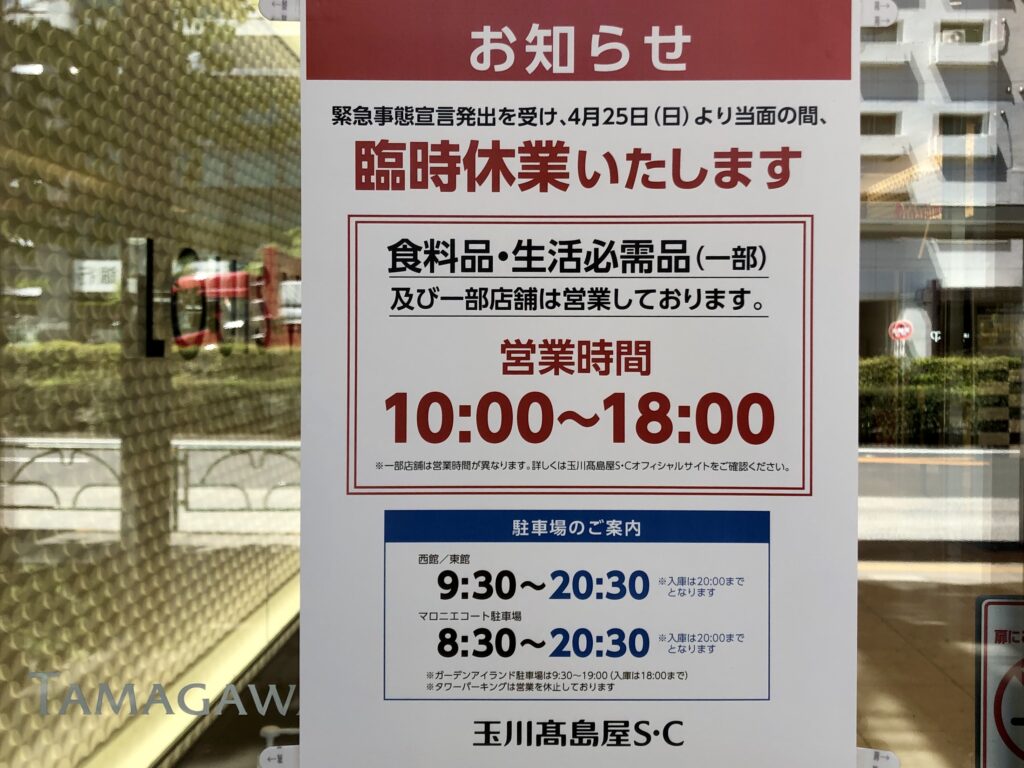 The shopping center has many floors, but apart from the basement only the cosmetics department is also open for business. This I am struggling to understand. I am sure there is some perfectly good reason, but as I was walking on the sidewalk seeing people inside appearing to be shopping for lipstick, I could not escape the feeling that now, this period in time, cosmetics should be less important than ever. Faces hidden by masks and with long forelocks being a very very popular hairstyle, a pair of eyes is often the only part of the face that can be discerned – is buying expensive eyeliners really a priority in times when the government is urging people to stay at home? But then again – I let my question be left unanswered; I am myself out walking every day with our baby and besides, I have never been in the habit of using makeup so what would I know… Maybe I am just tainted by the fact that I find my wife's face the most glowing without any makeup. With or without mask.