Being a foreigner in Tokyo, I have come to know the Immigration Bureau quite well; during my two years here I have already gone there five or six times. And now time had come to visit the Immigration Bureau once again to apply for an extension of my spouse visa. With the Corona virus affecting the way things normally are done (waiting inside an overcrowded building for four hours), weather has come to play a part in determining when it is good to go since new restrictions mean waiting outside, and outside there is basically nothing. Except for rain – since it it the rain season in Japan right now, finding a day when dry weather is expected for a whole afternoon is a challenge, but on Tuesday rain seemed to be absent so I hastened to Shinagawa.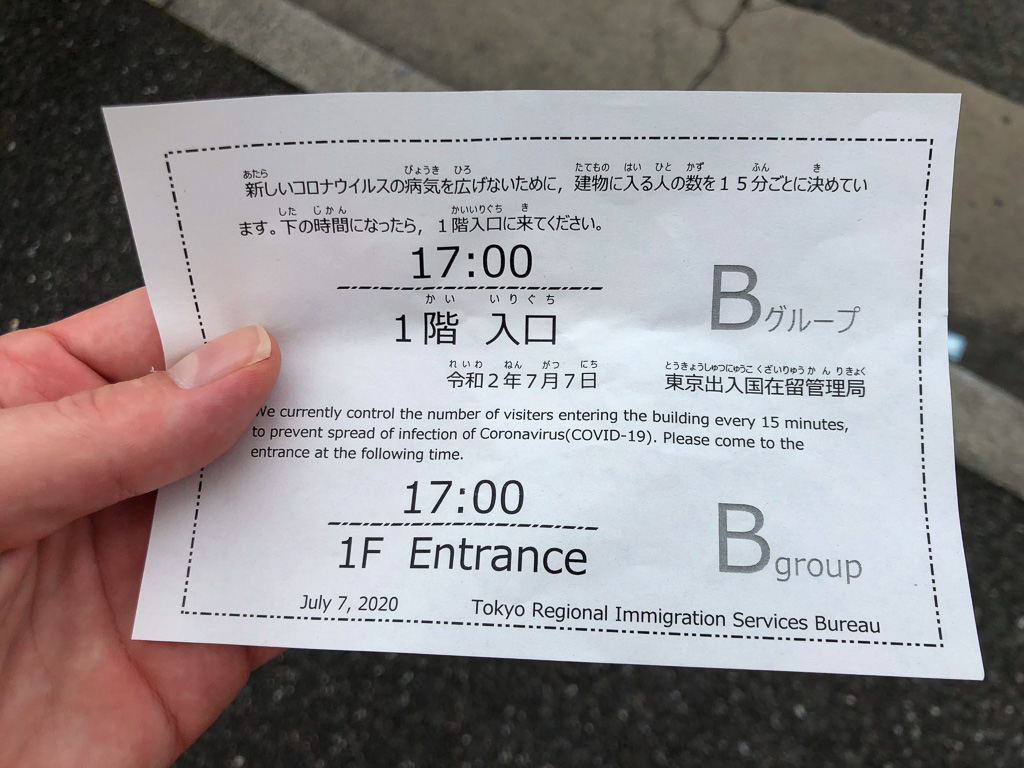 Going to the Tokyo Regional Immigration Bureau in Shinagawa takes me about an hour, and this was the first time in months that I used the train. Had I not known about the pandemic, the only thing that could have made me guess something was different from early spring was the 100 percent use of face masks. During the train ride (where I was trying to hide in a corner as well as I could) a lot of memories resurfaced from my wife's and my struggles two years ago when we went through the process of first applying for a certificate of eligibility and then a visa. While we were getting to know each other I stayed in Japan on a tourist visa, but wanting to live together require a proper long term stay visa so a quick marriage was followed by a long process of preparing documents, filling in forms and collecting all our relationship history to supply to the Immigration Bureau to show that we are a proper couple.
Oh when I think about all those printouts – page after page of personal chat history, of video call logs, all the photocopies of photographs and love letters – even if it feels strange (and a little bit embarrassing, though less embarrassing than I thought it would feel) to know that a stranger could have been reading our very private sweet talk that was only ever meant each other's eyes, in a way it also feels a bit precious to know that there was so much love that we submitted to the Immigration Bureau on all those papers; that gray sterile and a bit old and scruffy government building sure is in need a fresh portion of love every now and then I think. So while going to the immigration office as a general rule is a bit daunting and unpleasant, it is at the same time lined with a little bit of fondness, like visiting an old friend that you care about but not sure if you really like.
This being the second time I apply for an extension of my spouse visa, the experience from last year made the preparation of all the necessary documents easier this time and I even felt a bit confident that I could do it all by myself without interpretation from my wife. I left home after lunch and when I arrived I saw a sea of people waiting outside the immigration building. I was handed a queuing ticket and realized that I had two hours before they would let me inside. So now what should I do these two hours – Tokyo Regional Immigration Bureau in Shinagawa is located in a kind of dock lands with wide roads, lots of lorries and not much of anything else, especially beauty. Or so it may seem; I was determined to make use of this time and make my trip here an exploratory stroll with my iPhone camera under gray skies in search of the innate beauty of things.
Fascinated by discovering a part of Tokyo I would never have explored was in not for the Corona virus, my two hour walk felt like thirty minutes and back at the Immigration Bureau I did the necessary queuing in line outside (with other people standing close close together and me seemingly the only one caring about the social distancing). Well inside things were quick, I showed my paperwork, got a numbered ticket, submitted my paperwork, and within half an hour I got a receipt and could rush home to my family. Now I just have to wait a month or so for the postcard telling me that my application has been processed and that I can come a pick up my new residence card. Then I will go to Shinagawa again, and do it all one more time.