Living in Tokyo with views of Mount Fuji just a few minutes away, I have become, what I can closest describe as, addicted to looking at the mountain. During summer Fujisan (the Japanese name) is often hidden from view by hazy skies but when winter is here she is almost always there at the horizon, far far away and yet close enough to clearly feel her presence. Long before moving to Japan I became fascinated by Mount Fuji after having become acquainted with the great Japanese artist Hokusai's 36 views of Mount Fuji. Inspired by Hokusai, I was even photographing different views of the church in the village where I was living. The church is, like Fuji-san, easy to see from far away as it rises above the village, and finding unique perspectives to capture was a project that followed me for many years.
After moving to Japan I have got an even deeper understanding for the fascination that Mount Fuji inspires; especially so this winter. With a baby in a small apartment, daily walks outside with our son in his baby car have become a lifeline, and those walks have often taken us to locations where my wife and I find ourselves stopping, standing, holding hands and looking at Mount Fuji. I sometimes experience a kind of hypnotic gaze from deep inside the mountain that makes it difficult to stop looking, to let go of my wife's warm hand and return home. Often times we manage to time our walks with the setting sun, and that makes the experience even more mesmerizing. This time of year the sun in the direction where Mount Fuji is to be seen. So it happened that the other day my son and I found ourselves among fifty other photographers all waiting for the sun to descend on the mountain (all keeping social distance of course).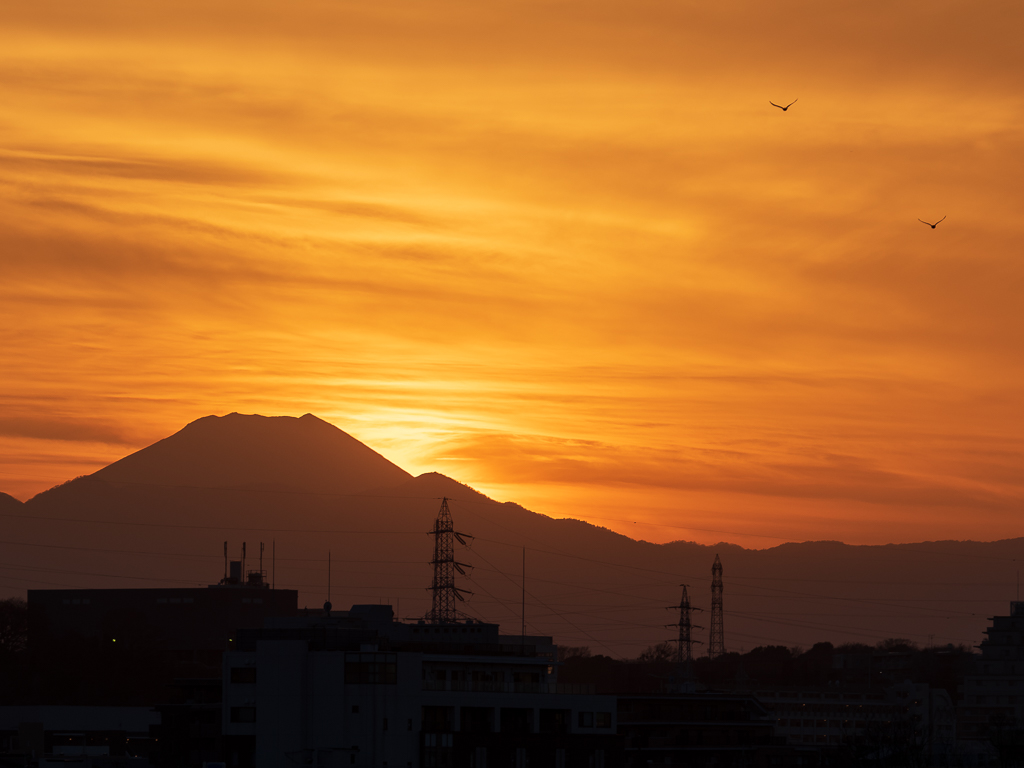 My wife had severe back pain so it was only me and our son that went on our daily walk two days ago. I thought I would bring my camera and tripod just in case there was any particularly beautiful views of Mount Fuji to bee seen that night, and with the camera over my shoulder and the tripod tucked in under the baby car we headed to the walk path along No river (mark the big N). The walk path is elevated and often offers very good views of Mount Fuji, and normally we are quite alone walking there. That evening however, the path was lined with tripod after tripod, camera after camera. The more sophisticated photographers had multiple cameras and video cameras all set up, waiting for the sun to set. The reason so many people were wanting to photograph Mount Fuji that particular day soon became obviously apparent – the sun was set to be swallowed by the crater of Mount Fuji (called diamond Fuji I have later learned, although my photograph is more like a giant pearl I think), and as my wife explained to me afterwards, that image is a symbol of luck in Japan.
Waiting for the sun to set, our baby was becoming unhappy in his baby car so as the sun slowly made its way towards the mountain I picked him up and together we watched the sun disappear, all while capturing the scene using the cable release of my camera. Taking photos of the sun setting on top of Mount Fuji while cradling my son, took my fascination of the mountain to a new level, and I felt so filled with joy and gratitude to be able to share that moment with him. All that was missing was my wife to be there with us, but I look forward to many family photo excursions together in the future, all three of us.