Raking leaves is really the only thing I do not like about autumn. When living in Sweden, raking leaves on a big lawn every fall was my least favourite chore. I found it boring, tedious, a necessary evil that had to be done before being able to enjoy the clean beauty of winter. So raking leaves is what I do not like about autumn. Or rather what I did not like – since moving to Japan I have a newfound love to and appreciation for the undertaking.
Our apartment neighbours a building owned by the local government, a kind of community center. Now that summer is past its peak, almost every time I look out the window I see an old man sweeping a few leaves from the grounds outside the building. Me and our son sometimes stand in the window looking at him at work. He amazes me so much that I have created my own story about him, and as we stand looking at him I tell my son about the man who I call Kantaro-san (from a children's song that my son and I love, about the North Wind's child called Kanataro), how it is that he ended up taking so beautifully care of the little path surrounding a government building in Tokyo.
When retirement came after a long life of being a salary man, always working, always coming home after midnight after having eaten a late night dinner at an izakaya while having a beer and feeling tired but good about a long days work, life suddenly turned empty and sad. Kantaro-san had no wife, no family, no friends and he did not know what to make of himself. He felt that life was over, and he did not even know what had been the point of having had a life at all. There was nothing to show for it, the company lived on without him and this year they did not even send him a new years card. The man kept coming to the izakaya though, having his beer at the counter, trying to avoid going home to his empty apartment.
One evening a young man who also is a regular at the izakaya sat down next to Kantaro-san and started talking to him. The young man said that he had often seen Kantaro-san always sitting at the same place always having his beer, but lately the young man thought that Kantaro-san had grown very very old and seemed very very sad. Was he perhaps very very lonely, asked the young man. And Kantaro-san, who had not talked to anyone in what seemed like ages, started to tell the young man his story. The young man it turns out, was a government employee, and he said that he knew that they wanted help at the newly opened community center – was there any chance that Kantaro-san had any interest in doing a little work to help the community stay clean and safe?
This is how Kantaro-san ended up doing volunteering work for the city, proudly dressed in a uniform and an apron, tasked with taking care of the two parking lots and the one meter wide path outside the community center. He has a besom, a broom made of twigs attached to a stick, and as soon that there is a small leaf that has fallen to the ground, he is there with his besom and his shovel to sweep up the little leaf. By a young man's kindness, by being given the responsibility to take care of the little area surrounding a local city government community center, Kantaro-san found new meaning in life, and here ends my story.
I strongly believe the man takes great pride in having a spotless paved walkway meet the citizen coming to the building every day. Only in Japan, I tell my son. Only in Japan have I seen such a spotless public space – such dedication to the task at hand, at first glance a seemingly mundane task but when looking behind the surface there is nothing mundane about it at all but rather all-encompassing in its core beauty and the love it expresses. It is deeply humbling to experience this man sweeping leaves, and I feel like a very small person when I think about how I was complaining about the lawn and the leaves in Sweden.
But spotless, is it actually spotless? Standing looking at the paved path, looking closely, I have found that there always seem to be one or two little leaves left on the ground. This has made me think a lot about my favourite piece of anecdotal account illustrating the Japanese concept of wabi-sabi, which architect and author Leonard Koren describes as "a beauty of things imperfect, impermanent, and incomplete". This anecdote describes the 16th century tea master Rikyu raking a garden, removing every single leave before finally, when finished raking all the leaves, shaking a tree so that a few leaves fell to the ground in the otherwise spotless garden. I find this image mesmerizingly beautiful and me and my son are wondering if the man taking care of the grounds of the community center has also heard this anecdote.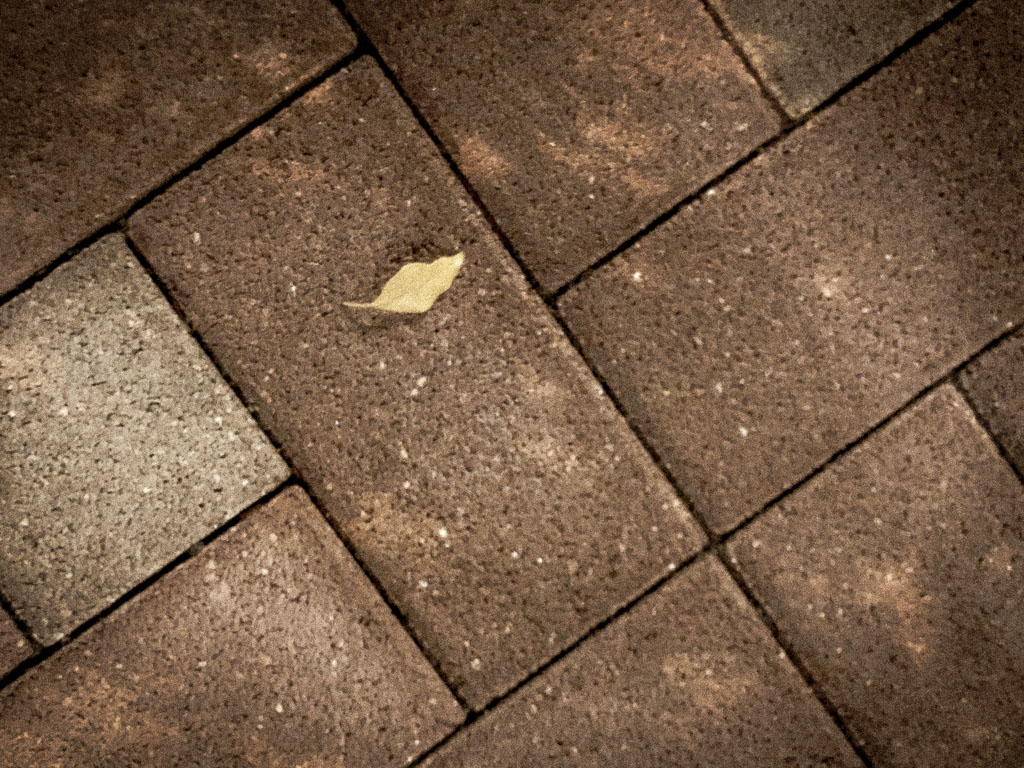 I wanted to capture the beauty of this scene, so one evening after dark I sneaked out with my iPhone and and managed to find a yellow leave lying unswept on the paved path. I took a grainy photo (I should really call it noisy photo, not grainy, but grainy seems more appropriate), feeling very wabi-sabi about it. Though instead of posting it online, I should have printed the photo on a yellowing paper where the print would soon be nothing but a ghost image of what was once a story of the love an old man felt when taking care of the tiny grounds of a government building in the outskirts of Tokyo.